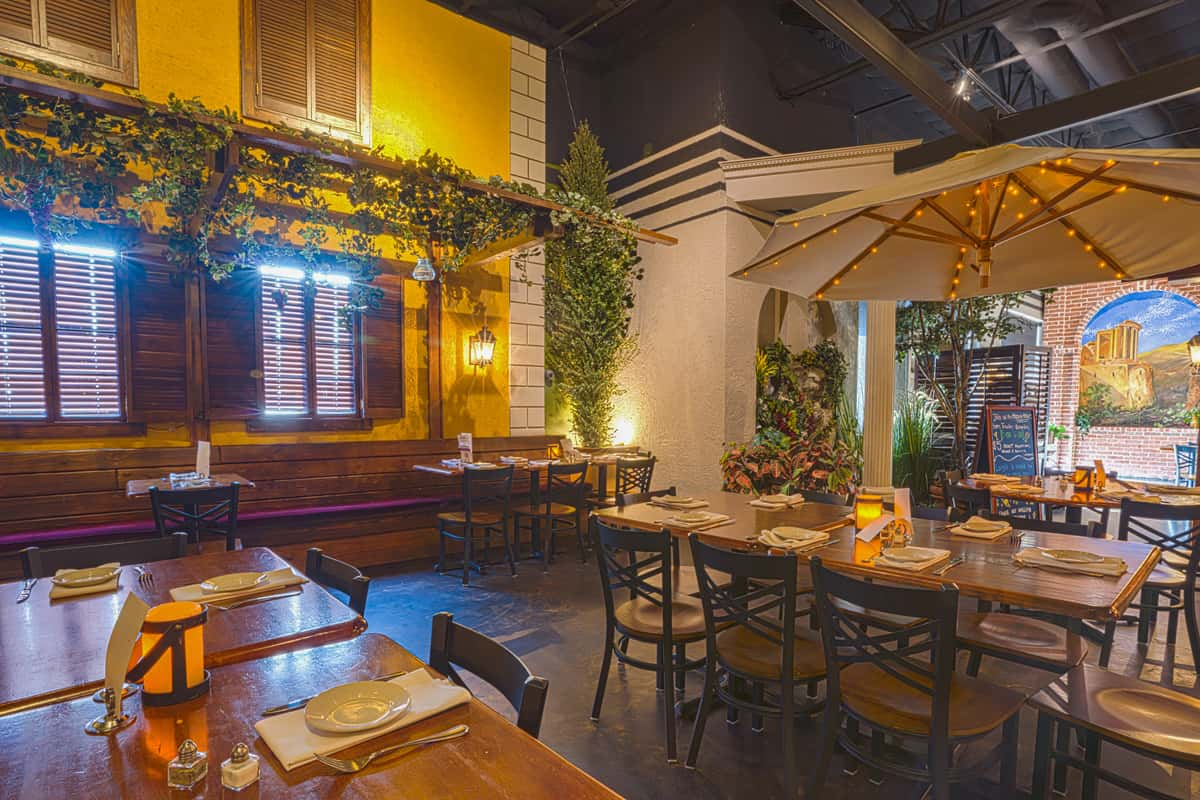 Private Events
FAQ's for Private Events
Our Formal Dining Room, a semi-private space with a cozy yet upscale setting, can seat up to 55 guests comfortably. This area features beautiful tablecloths, an optional projector screen for pictures, and easy access to our restroom facilities. The space can also be converted into a fully private area for groups that are 30 and under. Although it is not in the same room as our live music, it is still close enough to listen in! Let us know if you have a music genre preference and we will do what we can to book a musician at no additional cost. We host our music every night at 7 PM.
Our indoor patio area, which is our main dining space, can seat up to 85 guests comfortably. This area has a courtyard-like setting, giving you the sensation of being outside without having to deal with the Texas heat. Our indoor patio is widely regarded as one of the best restaurant ambiances in the BCS. The room features our stage, where we host nightly live music starting at 7 PM. Let us know if you have a music genre preference and we will do what we can to book a musician that fits the description! Our live music is typically from 7:00 PM - 9:00 PM on weekdays, and from 7:00 PM - 10:00 PM on Fridays and Saturdays. Having the stage at your disposal is also great for groups who are interested in giving speeches (although we do ask for groups to limit them to 3).
For Parties 120 and Under
Luigi's recommends making a full restaurant reservation when groups exceed 85 guests. By choosing this option, you would have our whole restaurant at your leisure. 
Quotes and Payment Information:
To reserve a space, there would be a minimum expenditure that would need to be set. This means that your party (as a whole) would need to spend a set amount before tax and gratuity (20%). This minimum includes all food and beverages (including alcohol). All that we would need on our end is to hold onto credit card information until the day of the event. Although this card doesn't have to be the one that we use for the bill, it would be the one that would get charged in the case of any disputes. The minimum expenditure amount can vary depending on the date of the event and the time requested. For more information, please call or email us, and a manager will gladly assist you.
To minimize wait times, we have created a Large Party Contract (see below) which is a way for you to customize and condense the menu for your group. You pick out the options and we print them out in menu form. We can even insert a customized message at the top of each menu if desired! 

Although appetizers aren't offered in the form, we can still include them if you list them in the notes section! Tastings for food and wine selections can be made by calling 979-693-2742 or emailing us at info@luigisbcs.com.